What Do All Small Businesses Have in Common in the West Yellowhead?
They represent the lifeblood of our communities and the mainstay of our economy. Small businesses strengthen our communities. They create jobs, treat their customers as friends, contribute to the community spirit, and leave a positive financial impact in our communities.
Community Futures West Yellowhead recognizes that there is more to a 'shop local' campaign than promoting residents to spend their dollars at local retail stores. Instead, it must involve a cultural change in our rural communities to thinking local first as well as encouraging businesses to cater to local residents. All elements of promoting business in the West Yellowhead have to be considered, including business retention, retail spending, local procurement opportunities, eating local products, and "stay and play" components. #ChooseWestYellowhead's goal is to be a backbone for promoting tourism, business retention, and expansion opportunities within our own backyard.
This year-long, multi-level #ChooseWestYellowhead initiative will be used to help the business community on the road to recovery and is one of many approaches to help build economic development strategies to help identify needs and services that will fuel the economy in the region.
The #ChooseWestYellowhead initiative ends March 31, 2022 so act now to access these services!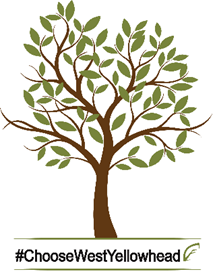 This project is led by Community Futures West Yellowhead and is supported with funding from the Rural Opportunities Fund Project through Community Futures Pan West, a joint initiative of four provincial Community Futures associations, working with Prairies Economic Development Canada.
Other Sponsored Initiatives