Edson Small Business Loan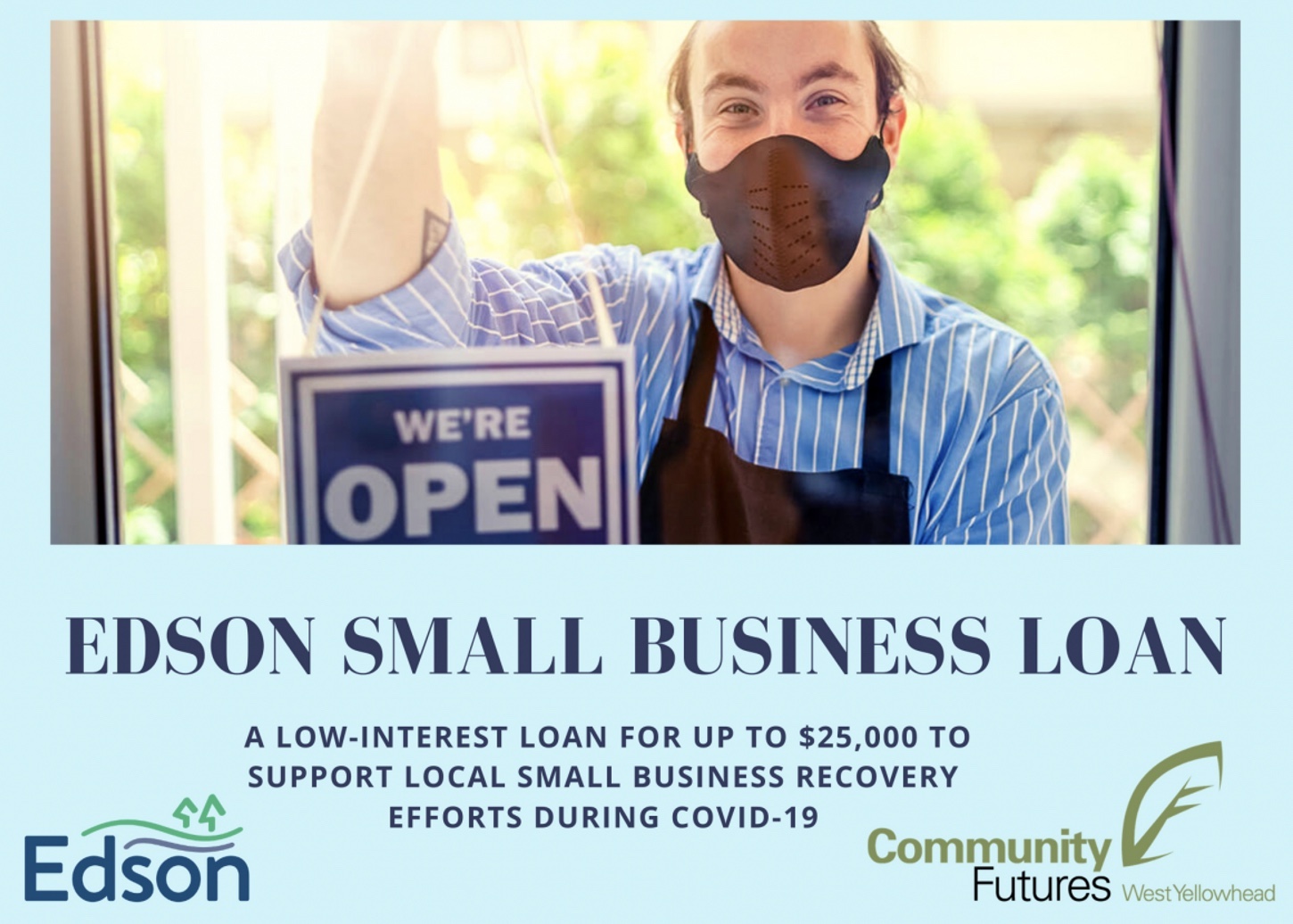 The Town of Edson and Community Futures West Yellowhead (CFWY) understand the difficulties the COVID-19 pandemic has caused the small business community. As a result, the Town of Edson has made funds available to CFWY to provide support and assistance to SMEs and non-profits through the Edson Small Business Loan.
Small business owners impacted by the COVID-19 pandemic can apply for loans up to $25,000.
The Edson Small Business Loan was created to promote entrepreneurship and business retention during COVID-19, business recovery and increasing the potential of businesses to pivot and reimagine their business models for future success. The loan will provide funds to storefronts in the downtown core to improve access to physical distancing measures and focus on local entrepreneurs in the downtown sector.
General Details:
Maximum loan of $25,000
0% interest for the first 365 days
No payments are required until the 366th day after the loan agreement is signed, then payments will continue until the loan balance is paid in full.
Principal repayments can be voluntarily made without penalty within the first 365 days after the loan agreement is signed
The full balance must be repaid no later than 3 years from the date the loan agreement is signed.
Loans will be at a fixed interest rate of 3%.
Eligible Businesses:
Businesses who have a valid business license in the Town of Edson.
Businesses and non-profits located in the West Yellowhead who have experienced a drastic change in their operations due to COVID-19 on or after March 17, 2020.
Businesses must provide up to date financial statements and disclose any outstanding arrears to CRA in the last 6 months. Businesses must be considered viable and able to pay back loan debt to Community Futures West Yellowhead.
Businesses must have less than 500 employees, annual sales revenue of a minimum of $5,000 annually, and a gross annual revenue of less than $5,000,000.
Preference will be given to store front businesses in the downtown area who deal with clients on a face-to-face basis.
Preference will be given to current and past (within two years) CFWY loan clients who have storefront properties
Eligible Expenses:
Business innovations related to working in a "new normal" under COVID-19 such as new technology, website development and/or any changes to the business model related to increasing revenue streams to the business.
Costs supporting changes to business models related to pivoting day to day operations.
Expenses related to business retention in Edson due to operating a business under COVID-19.
Any physical external modifications will need to have at least two quotes attached from a certified contractor in the province of Alberta.
Any expenses that improve revenue and/or the viability of the business in the next three years.
Expenses related to increasing online shopping for residents and/or "curbside" pick ups for local business operators.
Training expenses related to expanding business models so that virtual shopping and the business online presence is increased.
Ineligible Expenses:
Costs not provided in receipts or quotes
Salaries
Rent, leasehold improvements or commercial mortgage payments
Expenses covered by other federal programs related to COVID-19
Any expenses covered by CFWY loan programming such as RRRF and/or CFWY regular loan program
How To Apply
Click here to access our secure online Loan Application Portal.
Click 'Apply'
Click the 'Sign up now!' button the right-hand side
Enter your name, email address and desired password.
You will then receive an email asking you to verify your email address (make sure to check your Junk Folder or Spam Filtering if the email doesn't arrive in your inbox).
Once you verify, you will be able to login to the Loan Application Portal and complete your application.